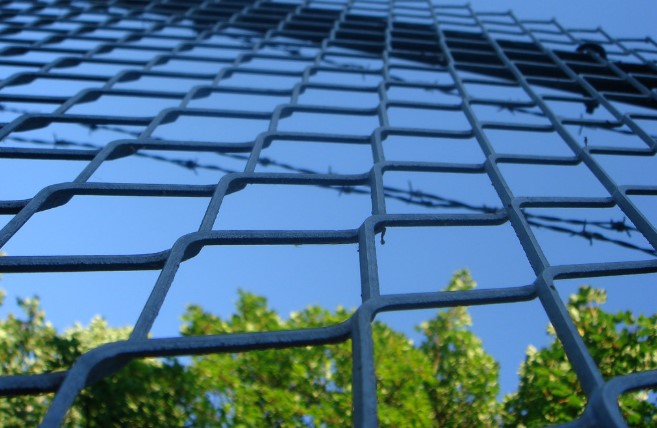 Residents of Placer County can always count on Granite Bay Fence Company for a great metal fence. Our company offers a wide variety of metal fences to meet the needs of any customer.
There are many benefits to having a metal fence, and our team can help you choose the perfect one for your home or business. Metal fences are durable, require little maintenance, and can be customized to fit your specific needs.
Give us a call at (916) 823-9811 to learn more about metal fence in Granite Bay, CA.
Chain Link
The chain link is probably the most common kind of metal fence around. It 's simple, yet effective design has made it a popular choice for both residential and commercial applications. Chain link fences are typically made from galvanized steel, which makes them resistant to rust and corrosion (though in my little league days of the 1980s, it seemed like ALL of the fences were rusty; these days, we coat galvanized steel to protect it from degradation).
They are also easy to install and can be customized with a variety of add-ons, such as barbed wire or privacy slats.
Wrought Iron
Wrought iron fences are the epitome of elegance and style. These fences are perfect for those who want to add a touch of class to their property.
Wrought iron fences are made from, you guessed it, wrought iron. Wrought iron is a type of iron that is heated until it's malleable and then cooled in order to give it its signature look. This process is often done by hand, which makes wrought iron a bit more expensive than other styles
These fences are incredibly strong and durable and can last for generations with proper care.
Aluminum
Aluminum fences are a great alternative to wrought iron fences. They offer many of the same benefits but are typically lighter and more affordable.
Aluminum fences are also low-maintenance and are available in a variety of styles. You can stick with traditional black, or go with just about any other color you like. Aluminum fencing is also quite compatible with any kind of landscape; no matter where you place it the fencing always looks strong, and neat as a pin.
Molded Iron
Molded iron is similar to wrought iron, except after heating, the iron is poured into a mold. This gives the fence a more uniform look, which some people prefer.
Molded iron fences are less expensive than wrought iron, and are just as tough. With proper care, your molded iron fence from Granite Bay Fence Company will last for decades.
Steel
No, not Remington Steele (see, the guy doesn't even spell it the same). We mean a steel fence. This is another option you'll have if you want to use metal, and it comes with a host of benefits.
Steel fences are the most durable kind of metal fence you can buy. Some steel fences have been known to stand for centuries (eat your heart out, Mr. Tortoise!). They're also quite affordable and can be customized to your liking.
Like all metal fences, steel fences are low-maintenance and easy to care for. If you're looking for a tough, reliable fence, a steel fence is a great option.
Granite Bay Fence Company is your one-stop-shop for all your metal fencing needs. We have a wide variety of styles and colors to choose from, and our team can help you find the perfect fence for your home or business. Give us a call today at (916) 823-9811.